Bodie State Historic Park, California, USA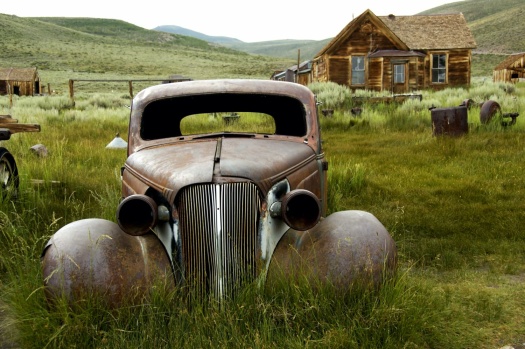 Why are you reporting this puzzle?
This here is
Bodie in Mono County, California, USA
. Today a so-called ghost town with many tourists visiting each year and named Bodie State Historic Park. But back when Bodie was a mining camp gone bustling mining town in the nineteenth century, Bodie was anything but a ghost town—filled with hopeful miners looking for their lucky break when working in the adjacent mines and relaxing or letting out steam when not working.
The mining camp Bodie was established as a group discovered gold in 1859. Bodie was named after a group member - W.S. Bodey (he dies soon after, never seeing the camp grow into a town of significant size).
Bodie had a population of around 7,000-10,000 in 1879 and 2,000 buildings. But during the 1880s, promising mining findings in other areas lured hopeful miners away from Bodie, and the town became a more family-oriented community.
In 1910 the population was recorded to be 698 people. As many of the miners had left Bodie, the mines still continued to do very well the following years, but by 1914 it is reported how the mines came to produce less and less profit to support the town. Attempts were made to boost profit but not with good enough success, and by 1950 all the houses in Bodie stood empty. In 1962 Bodie became
'Bodie State Historic Park'
, and each year around 200,000 visit to get a sense of wild west history.
Are you a Jigidi Plus member?

When you become a Jigidi Plus member, you'll enjoy the completely ads-free Jigidi experience. Also, you directly support Jigidi and help us be as free as possible to make Jigidi even better every day.