DAHLIA CAMPANULATA...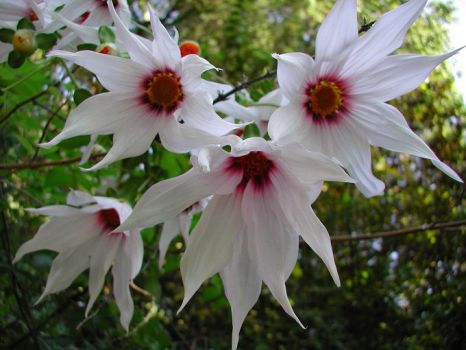 Why are you reporting this puzzle?
Also known as "Weeping Tree Dahlia".
This is a new species discovered in the Mexican State of Oaxaca! It's white and purple blooms dangle gracefully like silk handkerchiefs! At over 7 inches across, these flowers may be the largest of all naturally-occurring Dahlia species! It grows to about 8 feet tall, with enormous tubers that can grow 1.5 feet long. This plant blooms in September in the wild but in other areas can bloom in October or early November! The blossoms are pure white with lovely purple centers, which become bright orange after the petals drop! This plant was found at about 6000 feet elevation in Mexico, where the climate is mild all year long and nights are cool! Their flower clusters should be protected from frost in Autumn!
How do you follow a puzzle?

When you follow a puzzle, it means you receive notifications about new comments on the puzzle.