Happy Birthday dear Silvia (silvestra)
Happy Birthday dear Silvia (silvestra)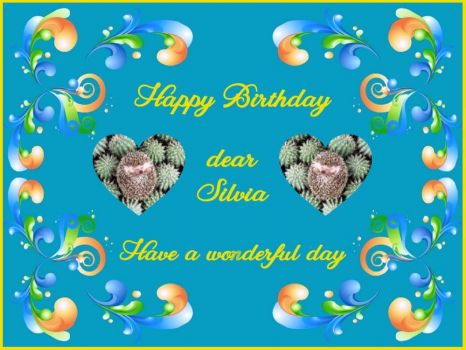 Why are you reporting this puzzle?
Congratulations on your birthday, Silvia, herzlichen Glückwunsch and many happy returns of the day. Yippee, it's celebration time again, and indeed the preparations have just been finalized for your Jigidi party. The food looks delicious, especially all those chocolate cakes and the big range of different flavoured ice creams. We also have enough of the finest champagne to last until long after the party is over. Your guests are arriving now from all over the world, so as the band strikes up "Zum Geburtstag viel Glück," let me call the birthday toast: Here's to you Silvia, wishing you good health, happiness and lots of fun, love and laughter throughout the coming year. Prost, Gesundheit und alles Gute! Enjoy your special day. Ank ♥♥♥

P.S. I've made this puzzle in two sizes as I know Silvia prefers larger puzzles.