Made Pickles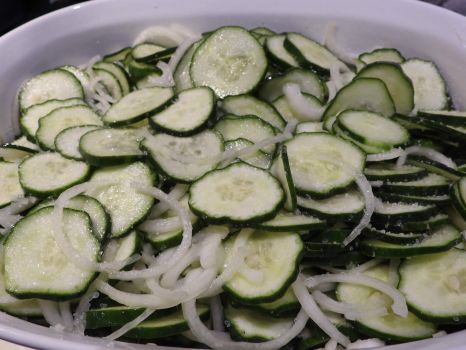 Why are you reporting this puzzle?
Bread and Butter Pickles

Makes 2 litres of pickles

3 lbs. (1.4 kg) 4-6 in long crisp cucumbers
1/2 lb. (300 g) onions
up to half cup coarse or pickling salt
2-3 cups crushed ice

Pickle Juice
3 cups vinegar
1 cup sugar
2 teaspoons dry mustard
1 teaspoon turmeric
1 teaspoon black peppercorns
1 teaspoon celery seed
1/2 teaspoon ground ginger


Slice cucumbers and onions thinly.
Layer in a glass bowl or a large (4 qt./3.8 L.) casserole dish, cucumbers, salt, onions, salt. ice, repeat.
Put in fridge for 2-3 hours.

Half and hour before draining cucumbers, prepare pickle juice.
In a large saucepan bring to a boil the pickle juice ingredients.
Simmer with lid on until ready to jar up.

Drain and rinse and drain again the cucumbers and onions.
Sterilize your canning jars.
Get canner pot onto boil.
Fill jars to the top with cucumbers and onions. Press down lightly.
Fill with pickle juice, leave 3/4 inch headroom for expansion. Wipe rims with clean damp cloth.
Put on lids and rings, tighten but not over tight.
Boil for 10 minutes in the canner.
Cool down, label and store in a cool dark place.
Let pickles pickle for 6 weeks before eating for optimum taste.