Upper Tahquamenon Falls--Brink view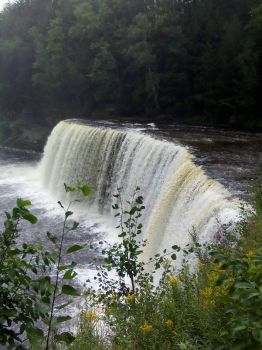 Why are you reporting this puzzle?
This is the view you get of the Upper Tahquamenon Falls after climbing down 94 steps (always remembering that what climbs down must climb up) to the "brink view." A bit of a warning is at the gift shop near the parking lot--there's a defibrillator hanging on the outside wall! For a look at the view for those who don't want to make the climb, see the other puzzle.

Measured by volume, the Tahquamenon Falls in Michigan's Upper Peninsula is the third largest (after Niagara and Cohoes) waterfall in the eastern United States. Tannins in the water give it its distinctive bronze stripes. I wish I could include the audio from the videos I shot. There's an awful lot of water pouring down here!
Are you looking to change your password?

It's always a good idea to consider if you need to change your passwords on the different services you use. We have created a guide for you on how you can change your password on Jigidi.