Felicity on Window Ledge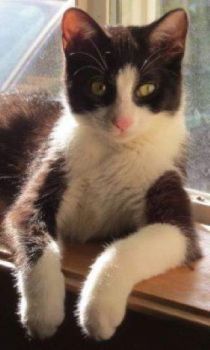 Why are you reporting this puzzle?
I'd like you to meet my new "Grandkitty," who appeared at my daughter's house about 2 weeks ago. Felicity was skin and bones, and did not belong to anyone in the area. SO, you can guess the rest! Mr. Riley now has a new "sister!" After gradually introducing the two, they get along wonderfully, as you will see in the next puzzle I have posted! I got to meet Felicity Sunday, and she is a sweet kitty!
Did you know you can invite a friend to a jigsaw puzzle?

Sometimes we come across a fantastic puzzle or interesting comments and think of a friend who would appreciate sharing our experience. Here is how you invite a friend to a jigsaw puzzle on Jigidi ☺