Memory plaque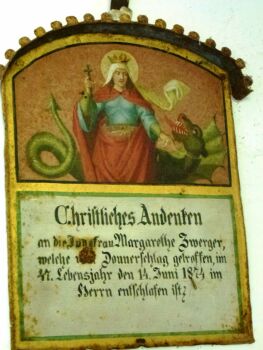 Why are you reporting this puzzle?
In - or on - old churches in Europe one often finds old plaques like this one that remind about a special event, usually an unusual accident or misfortune. This plaque reminds of the 'virgin Margarethe Zwerger' which has 'struck by a thunderclap and died 1874 in her 47th year.

The painting above shows her namesake, Margarethe of Antioch, who was tortured by the devil in form of a dragon which she managed to defeat with the help of a cross.