Federated Church in Castleton, VT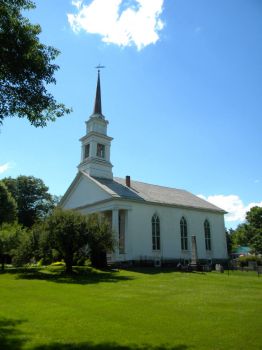 Why are you reporting this puzzle?
Federated Church in Castleton, VT, where I spent part of my youth and was married.

The church is both Methodist and Congregationalist. The Church was originally for the Congregational Church Society of Castleton.

Master builder Thomas Dake, built the Federated Church in 1833. The most magnificent feature is the chalice pulpit. WHen Dake approached the church committee about more money, he was turned down. Dake was unwilling to change his plan and paid for the completion of the church and pulpit out of his own pocket. The church was duplicated in the south - I believe in South Carolina. Dake is a locally celebrated master builder and the Castleton Federated Church is recorded in the Historic American Buildings Survey which is now a part of the collection in the Library of Congress.