Six more weeks...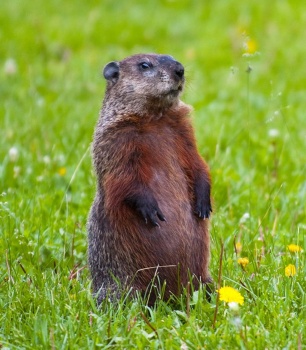 Why are you reporting this puzzle?
Groundhog Day. My phone tells me that this morning Punxatawney Phil saw his shadow, so we can expect 6 more weeks of winter.

I've always wondered about Groundhog Day. Up here no self-respecting groundhog will stir from his den for another month! January 23-29 is, on average, the coldest week of the year; it's asking a lot to get Spring 4 days later.... [Tonight the temperature is forecast to drop to -11°F (-24°C), and -19°F (-28°C) tomorrow!]

And why, if it's sunny, does that mean more winter, but if it's cloudy or stormy, spring is on the way? The whole thing never made sense unless it came from Europe. I thought it was England, where if it's sunny, you're under an Arctic high, but if it's cloudy (as usual), the Gulf Stream is far enough north to bring warmer weather - but as far as I know, they don't have any equivalent ground dweller to the woodchuck.

Well I wasn't far off. It turns out it was the Germans, and the badger. The Wikipedia article on groundhog day provides some background, but it seems to focus on Christian holidays, rather than the pagan cross-quarter day traditions which the Christian church appropriated.

Luckily, last year the Library of Congress American Folklife Center published a deeper and more accurate characterization of the tradition. It even includes an assessment of how accurate the tradition is as a predictor!

https://blogs.loc.gov/folklife/2022/02/groundhog-day-ancient-origins-of-a-modern-celebration/
How does the notifications system work?

When you hold an account on Jigidi, you will receive notifications when someone tags you, upon a new comment on a puzzle you follow and upon new puzzles from a puzzle creator you follow.