Roman amphitheatre in Pula, Croatia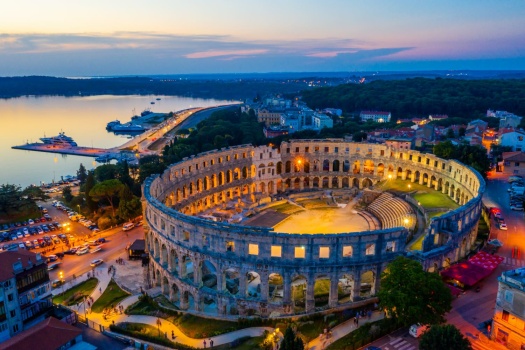 Why are you reporting this puzzle?
In Today's Daily Jigsaw Puzzle, we travel to Croatia to visit the Pula Arena in Pula, Croatia.
Pula was the regional center of Roman rule when the amphitheater was built.
The ancient amphitheater has four preserved side towers and is the only remaining Roman amphitheater to still have this. It was first built in timber in 2 – 14 AD. Since it was replaced by a stone amphitheater and was enlarged in the following years to accommodate its usage, which included gladiator fights.
It was completed in 81 AD.
During the Middle Ages, the Arena was used for grazing and tournaments by the Knights of Malta and medieval fairs. In 1932, it was adapted for theatre productions, public meetings, and military ceremonies. Present day the Arena is, among other things, used for large concerts, ballets, and the Pula Film Festival.
Now, are you up for some time traveling today? ♥ You can choose to
get a closer look at this amphitheater here
, or you may feel like spreading your attention and visiting no less than
10 different Roman Amphitheaters
across the world.
Are you looking to change your password?

It's always a good idea to consider if you need to change your passwords on the different services you use. We have created a guide for you on how you can change your password on Jigidi.