Bučina, CR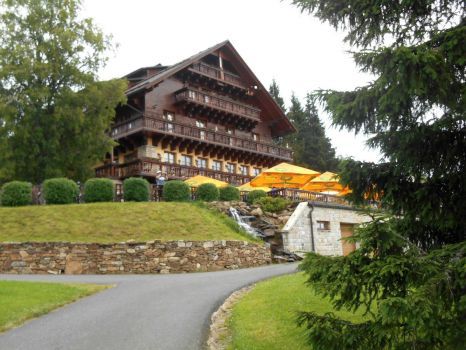 Why are you reporting this puzzle?
Bučina je bývalá obec na Šumavě, místní část Kvildy. Místo, kde se nacházela, leží v I. zóně Národního parku Šumava na holé planině v nadmořské výšce 1162 metrů a dříve tak byla nejvýše položenou osadou v Čechách.
V současné době se zde nachází pouze obnovená kaple sv. Michala (znovupostavena v roce 1992) a rekonstruovaný hotel Pešlova chata. Z horní části bývalé osady se otevírají výhledy na daleké horizonty Alp a jižní Šumavy.
Bučina is a former village in Šumava, the local part of Kvilda. The place where it was located lies in the 1st zone of the Šumava National Park at an altitude of 1162 meters.
At present there is only the restored Chapel of St. Michal (renovated in 1992) and the reconstructed Pešlova chalet hotel. The upper part of the former settlement opens up views of the long horizons of the Alps and the southern Bohemian Forest.