Johann Heinrich Tischbein (German, 1751–1829), Brutus Discovers His Sons' Names on the List of Conspirators (1800)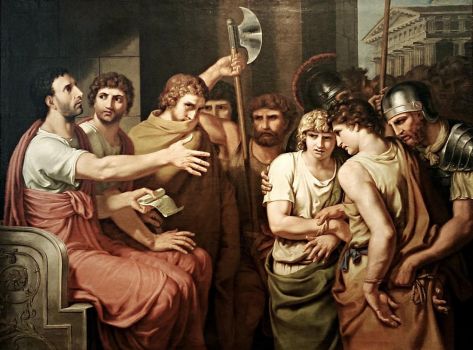 Why are you reporting this puzzle?
From Wikipedia:

In 509 BC the Roman monarchy was overthrown as a result of general resentment at the behaviour of the king Tarquinius Superbus, and especially his son Sextus Tarquinius, who had raped Lucretia, a Roman woman of noble background. A coup, led by Lucius Junius Brutus, resulted in the expulsion of the royal family. The Roman Republic was established, and consuls were elected to govern the city on an annual basis.

Brutus was elected as one of Rome's first two consuls in 509 BC. In that year ambassadors from the royal family arrived in Rome to seek to persuade the senate to return to the royals their personal effects which had been seized during the coup. In secret, while the Roman senate debated the request, the ambassadors sought supporters of the monarchy in Rome to form a conspiracy to re-admit the royal family to the city. Two brothers of Brutus' wife, of the Vitellii, both of whom were senators, were chief amongst the conspiracy, along with three brothers of the Aquilii, and other leading men whose names are no longer recorded. Two of Brutus' sons, Titus Junius Brutus and Tiberius Junius Brutus, joined them. . . .
The ambassadors of the royal family had persuaded the conspirators to confirm their dedication to the royalist cause in writing, and therefore the guilt of the conspirators was not in doubt.

The ambassadors were released, out of respect for the law of nations. However, the traitors were condemned to death, including the sons of Brutus. . . . The traitors were stripped naked, beaten with rods, and then beheaded. Brutus the consul is said to have burst forth with emotion at times during the punishment of his sons, although elsewhere he is said to have watched stoically while the punishment was carried out.

N.B. According to Wikipedia, the story "is part of Rome's early semi-legendary history," which means that there are several accounts of what happened, and it can't be determined which are accurate.