Godspeed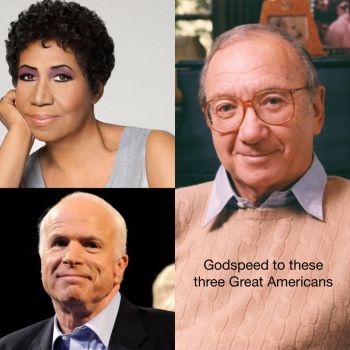 Why are you reporting this puzzle?
This month, three noted Americans passed away.

Aretha Franklin left us on August 16, John McCain on August 25, and Neil Simon on August 26. They each contributed to our nation in different but significant ways.

Aretha Franklin was fittingly known as "the Queen of Soul". The power of her voice and the strong groove of the music she performed were undeniable. During her illustrious career, she won 18 Grammy Awards, and was the first woman inducted into the Rock and Roll Hall of Fame. Her music shall live on, as will her memory.

John McCain was known for his grit, whether as a prisoner of the North Vietnamese for 5½ years, or as a Senator from Arizona who was more concerned for the welfare of the nation than partisan politics. During his campaign to become president, he stopped one of his supporters at a rally who proclaimed that Obama was a bad person and an Arab. He immediately corrected the woman, telling her that he had nothing but respect for Barack Obama, that he is a good American, and they simply disagreed about certain policies. In more recent times, he was one of the few Republican Senators who stood up to Donald Trump. Personally, I did not always agree with his political views, but I never had anything but the utmost respect for the man. He truly was an American hero.

Neil Simon was a great American playwright and screenwriter. So American, in fact, that he was born of the 4th of July! (1927) Early in his career, he teamed with his brother, Danny. As they gained experience and became more prominent, they wrote for performing giants of the day such as Milton Berle and Jackie Gleason. They eventually joined an all-star writing team, writing for Sid Caesar's "Your Show of Shows". That writing team included Mel Brooks, Woody Allen and Carl Reiner. With such an auspicious start, it is no wonder that Simon went on to win four Tony Awards, and was nominated for seventeen. in 1983, he became the first living playwright to have a Broadway venue named in his honor. He wrote numerous memorable plays, including (but certainly not limited to) "The Odd Couple", "Lost in Yonkers", "California Suite", "Yentl", and "The Sunshine Boys". He also created the semi-autobiographical "Eugene Trilogy", which comprised "Brighton Beach Memoirs", "Biloxi Blues", and "Broadway Bound". His impact on the American stage and screen will not be soon forgotten.

If you care to learn more about any of these late, great Americans, a good place to start is biography.com.