Memories. Balboa Park San Diego. One. 2015. Smaller.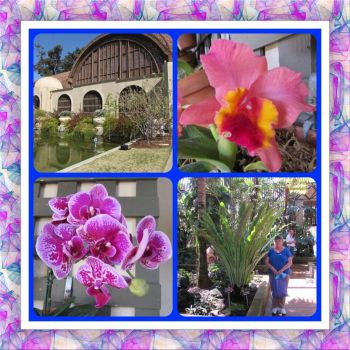 Why are you reporting this puzzle?
We had a fabulous day here and did a LOT of walking. We still didn't see all there was to see in Balboa Park, but to my delight the Lath House had an orchid display.

There's a reason why Balboa Park's stunning Botanical Building graces countless posts. Constructed with slats to allow for the proper sunlight and air circulation for plants, this soaring lath house was built for the 1915–16 Panama-California Exposition and is one of the largest of its kind in the world, flawlessly framed by a flower-trimmed lily pond. With its distinctive blend of architecture and flora, this is easily one of the most photographed spots in all of Balboa Park.

Top Left: The outside view of the Lath House.

Top Right: A gorgeous Cattleya Orchid.

Bottom Left: A beautiful Phalaenopsis Orchid.

Bottom Right: Janet (me) beside an enormous Birds nest fern. Bird's nest ferns (Asplenium nidus) are naturally epiphytic, meaning they grow on the surface of other plants. In their rainforest homes, they can be found growing high in the crooks of trees. This one was happy growing in the ground. Two Aussies.