Expressions of Endangered Animals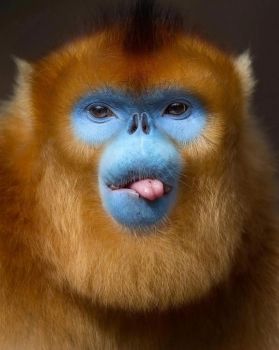 Why are you reporting this puzzle?
Golden snub-nosed monkey, Qinling Mountains, Shaanxi, China

Expressions of Endangered Animals Around the World

By Sara Barnes on August 13, 2019

For over two decades, photographer Mogens Trolle has captured stunning wildlife pictures on all seven continents. Trained as a zoologist and wildlife biologist, he specializes in mammals and uses his knowledge of them—as well his keen eye—to capture each creature's unique personality. His photographs, especially those of monkeys, showcase micro-expressions that look like the kind we're used to seeing on other humans.

Trolle often opts for a close-up or a cropped view of an animal's face. In doing so, it allows us to study their idiosyncrasies and consider the way in which they furrow their brow or purse their lips to communicate feelings of frustration, puzzlement, adoration, and beyond. Despite being an observer of mammals for so many years, Trolle continues to be amazed by how much personality they have. "And, in particular with our closest relatives, the primates," he tells My Modern Met, "how much we share with them, how similar we are."

The incredible images are made poignant when you learn that almost all of the primates he has photographed are endangered. It should encourage us to support conservation efforts so that these creatures aren't gone forever.