Malcolm X: Worth Dying 4 ~ Kevin Williams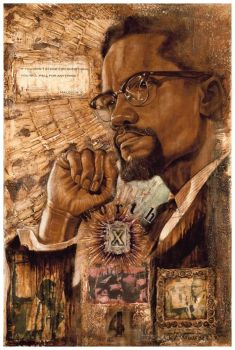 Why are you reporting this puzzle?
Kevin A. Williams grew up on the south side of Chicago. He developed his well-known moniker W.A.K. during his early journey as an artist, when he didn't want to use his real name. Soon it would come to mean "wisdom and knowledge" and would become symbol of his achievement in the commercial art world.

Although he doesn't plan to retire WAK, his new K.A.Williams line marks a fresh beginning for the artist. Taking the plunge into fine art, he began to create what he deemed to be "timeless" pieces. He describes the K.A.Williams line as a novel written from the perspective of the people of African diaspora. With imagery from the civil rights era, back to the moments before Africans were enslaved, his paintings capture a new view. These recent pieces in his new line feature imagery that shows, "the posture of a people before they were broken and interrupted from their daily work by intruders." Williams says that he is inspired to create images that show black people as proud, protective and superior beings as opposed to the common and incorrect imagery that show weakness, oppression and submission.