Cheeseburger at the Vienna Inn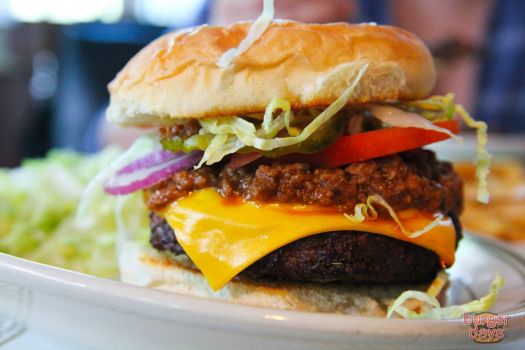 Why are you reporting this puzzle?
From the Burger Days blog: "A Never-Ending Quest to Find the Best Burgers in D.C., MD & VA."

The title of this restaurant review is "Crush the Chili Dogs, Beware the Burger at Vienna Inn."

"You know on "Diner's Drive-ins and Dives" where Guy Fieri walks into a "funky" little dive bar and discovers the place is doing it up gourmet style, with shit like duck confit or scratch made Beef Wellington? You know how there's always some talented young chef, usually covered in tattoos, who's decided to eschew the world of fine dining, and instead infuse his years of culinary learning with the comfort food he grew up eating?

It's punk rock gourmet. Rock and roll on a plate.
...
Opened in 1960, the Vienna Inn is a dive in every sense of the word. It's a watering hole where people can escape the pressures of their daily 9-to-5 grind. It's a place where blue collar and white collar can sit back, knock back a beer (or three), and argue over whether or not the Redskins will ever make it back into the playoffs. It's a place where the decor hasn't changed in the past 30 years, and neither has the clientele. Quaint, greasy, comfortable-- there are many words to describe the Vienna Inn, but gourmet? No sir!"