Inside The Egg-O-Sphere!.....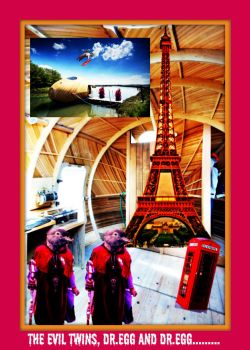 Why are you reporting this puzzle?
I can now reveal the identity of the mysterious mavericks behind the disappearance of national monuments from around the world.......None other than the evil twins, Dr.Egg and Dr.Egg, from the planet Egg-Nog!....
Sweetlittleoldgranny discovered their not-very-secret base in Rebmuda, where they had stashed their hoard of miniaturised monuments, re-naming the island "Eggmuda".......
As part of their devilish scheme, they had hypnotised "Roundy Robbiel" to do their bidding, and that is who our security agents spotted in the act of carrying away my head......
In the inset, SLOG (carrying the customary red herring) can be seen flying over the Evil Twins' spaceship, known as "the Egg-O-Sphere"........
We have now sent a crack team of nuns from the Our Lady Of The Tadpole convent, to put an end to
this mayhem and rescue Kaleidoboy and UncleRoger......