European Robin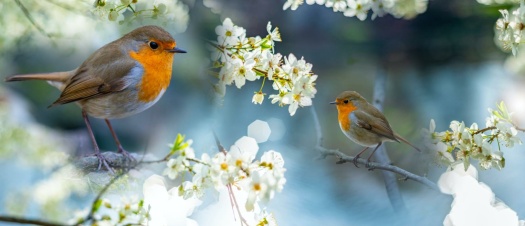 Why are you reporting this puzzle?
Aren't these lovely? A pair of European robins in a blooming tree ♥
The adult European robin is about 12.5–14.0 cm (4.9–5.5 in) in length and mainly lives in Europe, east to Western Siberia, and south to North Africa. Both the male and the female have the distinctive red/orange breast and face.
Male robins are territorial and are known to fiercely attack other males and competitors that stray into their territories. In some areas, territorial disputes account for up to 10% of adult robin deaths.
European robins have an average life expectancy of 1.1 years (due to high mortality in the first year of life). But once the robin has lived past the first year, life expectancy increases.
According to Wikipedia
, one robin has been recorded as reaching 19 years of age ♥
Now, are you ready to have your heart melt by this gorgeous
Robin deep in conversation with another bird
(a fellow robin, maybe) across the forest?