Wedding #5.......The Bride And Groom.........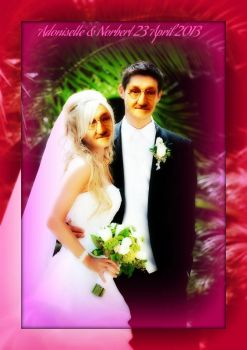 Why are you reporting this puzzle?
Here we have one of the official wedding photos of the beautiful couple.......As it will be noted, Norbert has slipped out of his Superman costume and, at the insistence of the blushing bride, put on a formal suit, which is more suitable for the occasion and probably suits him also, as well, too......
Adonisette has been compared to Morilyn Manroe in all her glory, and here it is easy to see why - she
displays her feminine charms in a charmingly feminine way........Norbert has been compared to Parry Hotter, and is tipped to be the next big heart-throb of the silver-screen.......even though he has no intention of ever becoming an actor, as his job at the Bugosi broom-handle factory keeps him happily occupied from dawn till dusk........
The charismatic couple are now on their moneyhoon, touring the neighbouring islands of Little-Bonga, Gnob-Gnob, Bangazamongo, Titambotia, and the land of the Nomi-Nomi..........We wish them well.......
Have you solved today's jigsaw puzzle?

Every day, we present you with a jigsaw puzzle that we curate for you. You will find it on our daily jigsaw puzzle page or follow us on Facebook to get it in your news feed. Solve it and share it with friends and family to give them a daily beautiful and mindful brain workout ♥