Hummingbird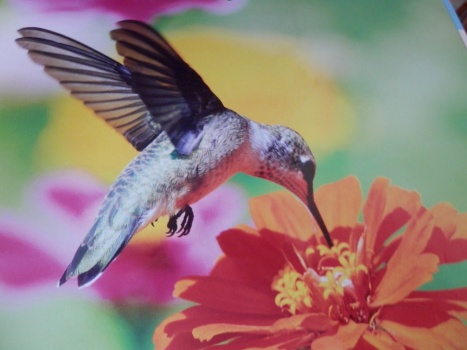 Why are you reporting this puzzle?
A hummingbird must consume approximately one-half of its weight in sugar daily, and the average hummingbird feeds five to eight times per hour.
In addition to nectar, these birds also eat many small insects and spiders, and may also sip tree sap or juice from broken fruits.
Capillary action along the fringe of a hummingbird's tongue helps draw nectar up into its throat so the bird can swallow.
A hummingbird can lick 10 to 15 times per second while feeding.
Hummingbirds digest natural sucrose—the sugar found in floral nectar—very quickly with 97 percent efficiency for converting the sugar into energy.
Did you know you can solve a puzzle in a different size than its original?

If you're interested in a particular puzzle but find it too large or small, you can adjust the number of puzzle pieces to better align with your preferences ♥️ To learn more, please refer to our information on the new resize feature 👍