Cedar Bridge - "Bridges of Madison County" read below!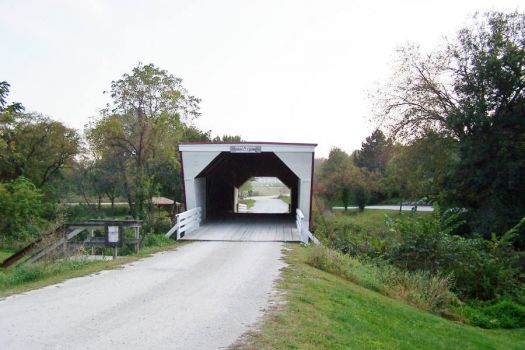 Why are you reporting this puzzle?
"Cedar Covered Bridge was one of the six remaining covered bridges of Madison County, Iowa. 76 feet long, Cedar was built in 1883 by Benton Jones over Cedar creek north of the county seat of Winterset on what is now U.S. Highway 169.
Cedar (also known as the Casper bridge) was one of 19 original covered bridges built in Madison County. The bridges were covered by order of the County Board of Supervisors to help preserve the large flooring timbers, which were more expensive to replace than the lumber used to cover the bridge sides and roof.
In 1921, Cedar was moved by steam-powered tractor to its present location over the same creek, about 1.3 miles to the east. A small county park is at the site, with a picnic area and gazebo. Cedar bridge is the last bridge open to vehicles.
County residents recognized the covered bridges as an important part of their heritage, and began the tradition of a Covered Bridge Festival in 1970. The Festival is always held on the second full weekend in October. As with the other remaining bridges, Cedar was carefully maintained and listed on the National Register of Historic Places. It was restored in 1998 with meticulous attention to historic detail at a cost of $128,073.
Cedar bridge became world famous in 1992, when it played a prominent role in Robert James Waller's novel The Bridges of Madison County. In the book, Cedar Bridge is where Francesca Johnson goes to meet Robert Kincaid to help him take photographs. A photograph of Cedar bridge adorns the cover of this world-wide bestseller.
In 1993, Oprah Winfrey broadcast one of her shows from Cedar Bridge. Calling The Bridges of Madison County her "favorite book of the year," Oprah brought author Robert Waller and her entire crew on location. The wooden stairway built next to the bridge for the show are affectionately known locally as the Oprah steps.
Cedar covered bridge was destroyed by a fire set by an unknown arsonist on the evening of September 3, 2002.
The Madison County Board of Supervisors have constructed a replica of the original bridge. Click here for more details and photos of the construction.
Although the original Cedar bridge and its 119-year history can certainly never be replaced, residents feel that rebuilding the bridge with the same methods and materials used in its original construction is a positive response from the community to this cowardly act. We want to make sure future generations remember this wonderful old structure.
December 2003–September 2004
The new Cedar Covered Bridge replica construction takes place. The design is based on old blueprints and photos of the original bridge, and the work must be meticulous and as authentic to the original construction methods as possible, as Cedar (and all the covered bridges of Madison County) are on the National Register of Historic Places."