Dining on the Titanic - Second-Class menu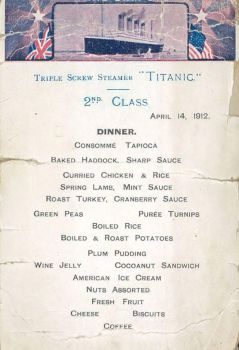 Why are you reporting this puzzle?
From the website Dusty Old Thing:

Second Class Menu

The second class dining room was quite serviceable, but had long tables which were shared more in a cafeteria style.

While the digs may have been different, the menu still had quite a lot of choices to offer the second class traveler. This was the mid-grade ticket price range, and standards erred on the side of quality when compared to third class (we'll get to that in a minute).

For the would-be dinner in second class on April 14th, the menu offered consommé with tapioca, baked haddock in a "sharp" sauce, curried chicken with rice, roast turkey with cranberry sauce, green peas, puréed turnips, rice, and both boiled and roast potatoes.

For dessert there was plum pudding, wine jelly, "cocoanut" sandwich cookies, American ice cream, assorted nuts, and fresh fruit. There was also coffee, cheese, and biscuits available. Unlike first class there was no beer listed on the menu.