Flag on Mt Carrigain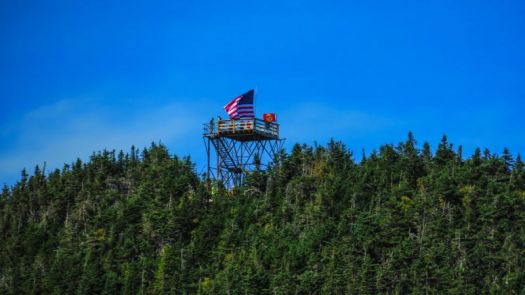 Why are you reporting this puzzle?
As found on "flagsonthe48.org": "On September 11th, 2001 the consciousness of United States of America was undeniably altered by overwhelming and devastating acts of terrorism, so far reaching in their intensity that our country will forever carry the scars. Thousands of lives were lost in a fleeting moment, immeasurable families shattered and countless hearts broken.

We in the hiking community continue to honor the deceased with a tribute: flying the American flag atop all 48 four-thousand foot and higher mountains in New Hampshire on Sunday, September 11. By demonstrating our steadfast unity in this challenging endeavor, we also hope to express our unwavering support to the families, friends and communities whose losses are beyond comprehension and whose suffering we remember in our hearts."

The summit of Mt Carrigain is a 5-mile hike from the parking lot. There is a fire tower at the summit of Mt Carrigain, and the folks who flew their flag at that summit carried it all the way to the summit to fly it from the tower itself.