A Minyon - by Israeli artist Reuven Rubin .. see comments below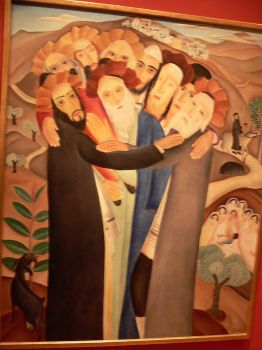 Why are you reporting this puzzle?
Traditionally, a minyon requires 10 men ... the white bearded rabbi here makes for 10 (note the hand draped over a shoulder on the right) .. ahh -- but the traveler in the background will give a cushion of an extra man .. ladies do not 'count' for a minyon in this old tradition - they are off by themselves in the lower right. ....Rubin was willing to provide (sometimes not delicately) social (religious) commentary in his paintings.