Maasvlakte, where the big ships enter (leave) Rotterdam harbours. This is one...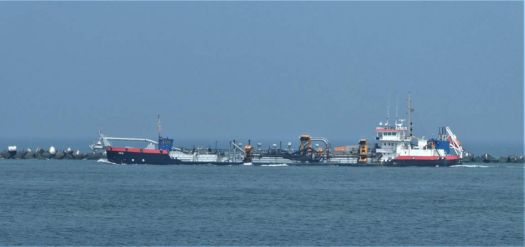 Why are you reporting this puzzle?
of a group of ships that are called 'baggeraars' (dredger). They suck up sand/mud from the bottom of the big rivers / the harbours / the canals so the big ships can keep on 'sailing'.
They bring it out to the sea and 'dump' it on places where it should become more shallow. F.i. near the coast, so the beach/dunes/dikes don't collaps during the next big storm.

This one is lying deep in the water, full of water, mud and sand. It is going out, towards the North Sea, to dump the material before the coast. He couldn't load this much if the weather had been bad (wind/storm).