"Scientists start mapping the hidden web that scaffolds the universe"
"Scientists start mapping the hidden web that scaffolds the universe"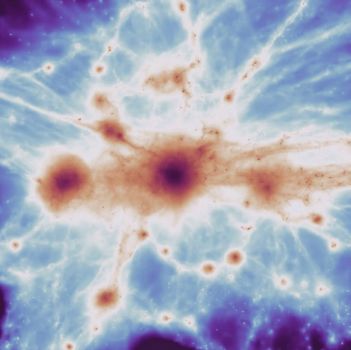 Why are you reporting this puzzle?
Above: "A massive galaxy cluster from the simulation, with filaments. Joshua Borrow using C-EAGLE"

"After counting all the normal, luminous matter in the obvious places of the universe – galaxies, clusters of galaxies and the intergalactic medium – about half of it is still missing. So not only is 85% of the matter in the universe made up of an unknown, invisible substance dubbed 'dark matter', we can't even find all the small amount of normal matter that should be there.

"This is known as the 'missing baryons' problem. Baryons are particles that emit or absorb light, like protons, neutrons or electrons, which make up the matter we see around us. The baryons unaccounted for are thought to be hidden in filamentary structures permeating the entire universe, also known as 'the cosmic web'.

"But this structure is elusive and so far we have only seen glimpses of it. Now a new study, published in Science, offers a better view that will enable us to help map what it looks like."

Courtesy of The Conversation. Click on the image copyright to continue reading.