Bílá skála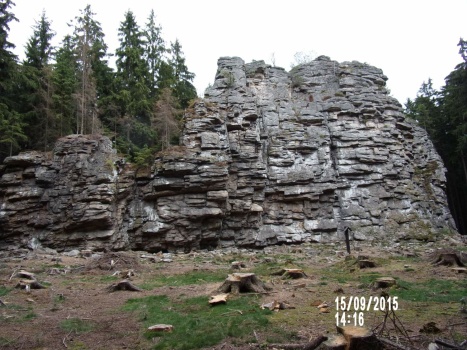 Why are you reporting this puzzle?
Najdete ji 2km jihozápadně od Křižánek a své neopakovatelné kouzlo má především pro amatérské i profesionální ornitology. Až do roku 1957 byla domovem sokola stěhovavého a dodnes je vyhledávána jako nocoviště a potencionální hnízdiště v chráněné krajinné oblasti se rozšiřujícího krkavce velkého. V nočních hodinách je tu zase slyšet houkání sýců rousných a puštíků obecných, ve dne hlasité ťukání datla černého.

Okolní lesy jsou převážně smrkové s mírným zastoupením buku. Porost na skále samotné tvoří kromě smrku také bříza bělokorá a jeřáb ptačí. Z rostlin tu najdete především mechy, lišejníky, traviny a kapradiny, ale také borůvky, šťavel kyselý a brusinky.

Proč dostala tato skála jméno Bílá, to je pro většinu příchozích záhadou. Ti znalejší tvrdí, že název skalního útvaru byl odvozen od zbarvení, které jí dávají dopadající paprsky jižního slunce.

K Bílé skále lze dojít po modře značené turistické značce, která pak dále pokračuje k nejvyššímu vrcholu Žďárských vrchů, k Devíti skalám. Horolezecká činnost je zde alespoň omezeně povolena a to na vyznačených úsecích od 1. července do 31. prosince. Žádné velké výhledy z vrcholu ale očekávat nelze, neboť tento skalní útvar je zcela zakryt okolním lesem.
Are you looking to change your password?

It's always a good idea to consider if you need to change your passwords on the different services you use. We have created a guide for you on how you can change your password on Jigidi.