kostel sv. Bartoloměje v Milevsku
kostel sv. Bartoloměje v Milevsku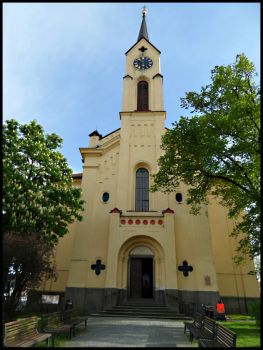 Why are you reporting this puzzle?
V centru města na náměstí se nachází pseudorománský kostel sv. Bartoloměje, vystavěný roku 1866 na místě zbořeného kostelíka z přelomu 15.-16. století.Kostel je trojlodní stavba s pětiboce uzavřeným presbytářem, v západním průčelí s věží.
In the center of the town square is the pseudo-roman Church of St. Bartholomew, built in 1866 at the site of a demolished church from the 15th to 16th centuries. The church is a three-nave structure with a penthouse closed presbytery, in the western façade with a tower.