☺ᗘ📷 Statue 📷ᗛ☺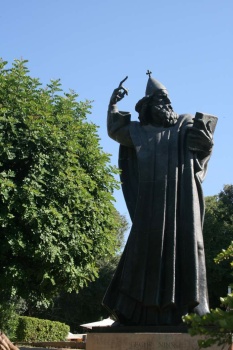 Why are you reporting this puzzle?
The statue of Bishop Grgur Ninski is located at the Golden Gate of Diocletian's Palace in the Croatian port of Split. The statue is 8.5 m high and its author is the Croatian sculptor Ivan Meštrović.
The bishop, with his uncompromising attitude toward the pope in 925, helped to make Croatian used as a language at Mass instead of Latin.
One interesting thing - as in many other places, is superstition. When you touch to the thumb on the bishop's leg (it is polished by constant touches), then you return to Split. I don't believe in superstitions, but in this case it works. Every time I visit this beautiful city, I reached for the bishop's thumb. Last time I didn't do it with the feeling that it was nonsense ... and I haven't been to Split since.