Komposition mit Fruchtschale (Composition with Fruit Bowl), Oskar Moll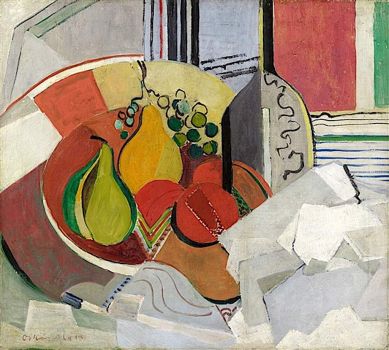 Why are you reporting this puzzle?
Oskar Moll (German, 1875–1947)
Komposition mit Fruchtschale, ca. 1931
Oil on canvas on plywood panel
57.4 x 64 cm. (22.6 x 25.2 in.)

I've created this puzzle at the delightful invitation of justbecause to all Jigidi puzzlers to explore and post puzzles of Oskar Moll's work. Below is the bio of Oskar Moll and the link to a treasure trove of his work justbecause shared.:

"Oskar Moll (1875 - 1947)
Brieg/Schlesien 1875 - Berlin 1947
Born in Brieg near Breslau in 1885, Oskar Moll belongs to that group of German artists who early on had leanings towards French painting. After first training in Berlin, primarily under Lovis Corinth, Oskar Moll went to Paris in 1907. There he joined forces with Hans Purrmann, Rudolf Levy and other contemporaries to found the Académie Matisse and became a member of the legendary circle of artists at the Café du Dôme.

Never wavering in his lifelong allegiance to Henri Matisse, Moll became one of the first Germans to collect the work of that celebrated artist. The Master's influence and especially Moll's encounter with Paul Cézanne's work would shape his own early efforts.

Appointed professor at the Breslau Art Academy in 1918, Moll became its director in 1926. He worked again in Berlin from 1936 but, branded as "degenerate" in 1937, he was forbidden to show any work. Withdrawing to his house on the shores of Lake Hallensee, Oskar Moll turned to painting nudes to supplement the landscapes and still lifes which had hitherto been his favourite genres but still painting in a style blending Impressionism and Cubism.

His house in Berlin was destroyed in an air raid in 1944 and with it numerous pictures and sculptures. Although his health was deteriorating, he was showing work at exhibitions by the time the war ended.

Oskar Moll died at seventy-two in Berlin on 19 August 1947. The following year three cities, Duisburg, Düsseldorf and Bonn showed an exhibition in commemoration of the artist.
----------------------------
If Oscar Moll is new to you too, have a look at artnet and see 377 pieces. It is the next best thing to the discovery of a trove of Matisse never seen before.
www.artnet.com/artists/oskar-moll/16"