Let's go take a look!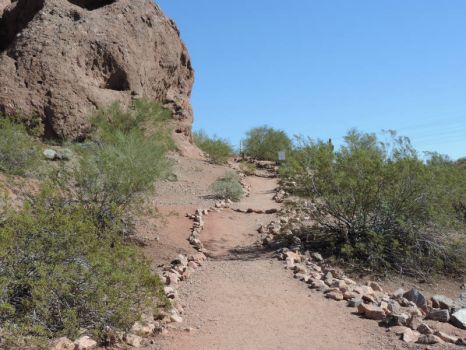 Why are you reporting this puzzle?
The hole-in-the-rock is the most prominent icon in Papago Park and carries evidence that the prehistoric Hohokam Indians settled this area thousands of years ago. The red butte was created 6 to 15 million years ago and naturally formed with a series of openings caused by erosion. The openings and "chamber" (hole) near the butte's summit are easily accessed from the rear via a smooth, but somewhat steep path. Those that trek to the chamber hole-in-the-rock are rewarded with great views across the city.
The ancient Hohokam People noticed that a hole in the ceiling in the chamber creates a ray of light that changes positions on the chamber's floor during the year depending upon seasonal movements of the sun. They marked the occurrence of the summer solstice by grinding a bedrock "metate slick" at the location where the ray of light falls during the day at noontime. The winter solstice is marked by the ray of light interaction with a natural seam in the bedrock. They also marked the equinoxes, the seasonal halfway point between the summer and winter solstices with a bedrock metate slick. The boulders near the hole-in-the-rock appear to provide other solstice and equinox markers. This is evidence of the cultural accomplishments of the ancient Hohokam people.