"Tri Color Seascape"
"Tri Color Seascape"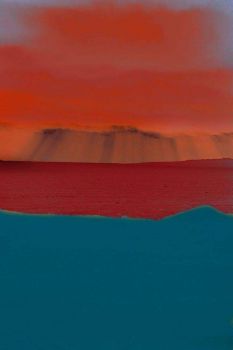 Why are you reporting this puzzle?
Erik Madigan Heck is an American artist and photographer. Heck is the founding editor of art and fashion publication Nomenus Quarterly. In 2013, Heck was awarded the Infinity Award for Applied/Fashion/Advertising by the International Center of Photography. He is also the youngest person to photograph Neiman Marcus' prestigious "Art of Fashion" campaign, which he shot in 2012. In its April 2011 issue, Photo District News magazine named Heck one of the 30 "new and emerging photographers to watch." Heck was also awarded with the renowned "30 Under 30" award by Forbes Magazine, Due to Heck's interest in mediums and technologies of the past, his reoccurring use of nature as a theme, as well as his focus on beauty as the ultimate ideal, Heck's work has often been described as a contemporary extension of Romanticism.[15] Referencing his own work, Heck explains that "...to access beauty is what we ultimately desire, and the tangibility of this access is what in my opinion ultimately differentiates fashion from art as end points on a continuum, and simultaneously elevates fashion photography to such an important place in contemporary society.