Yorkshire Terrier Puppy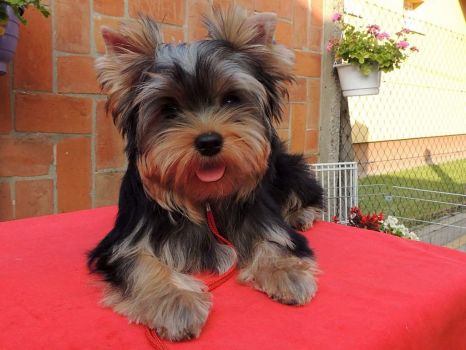 Why are you reporting this puzzle?
The Yorkshire Terrier (often shortened as Yorkie) is one of the smallest dog breeds of the terrier type, and of any dog breed. The breed developed during the 19th century in Yorkshire, England. Ideally its maximum size is 7 pounds (3.2 kg).

Yorkshire Terriers are very playful and energetic dogs. Many people who have a Yorkie as a pet have two, because they often have separation anxiety when left alone. They have a lifespan of 13 to 16 years.

A far cry from the diminutive glamorous breed of today, early Yorkshire Terriers were developed in the north of England in the mid-19th century for the job of dispatching rats in the coal pits and cotton mills. They were also featured combatants in rat-killing contests. But in those days, the breed was roughly twice the size of today's Yorkies.
13 March 2017 - 30 December 2014