No Cats Allowed (Cat in the Stacks Mystery) Book 7 of 14: Cat in the Stacks Mystery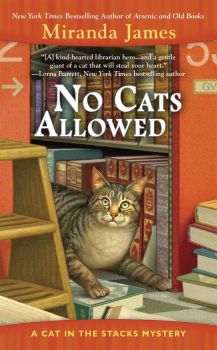 Why are you reporting this puzzle?
Book Overview
FIRST IN THE NEW YORK TIMES BESTSELLING CAT IN THE STACKS MYSTERY SERIES Everyone in Athena, Mississippi, knows Charlie Harris, the good-natured librarian with a rescued Maine coon cat named Diesel that he walks on a leash. He's returned to his hometown to immerse himself in books, but soon enough he's entangled in a real-life thriller... A famous author of gory bestsellers and a former classmate of Charlie's, Godfrey Priest may be the pride of Athena, but Charlie remembers him as an arrogant, manipulative jerk--and he's not the only one. Godfrey's homecoming as a distinguished alumnus couldn't possibly go worse: by lunch, he's put a man in the hospital. By dinner, Godfrey's dead. Now it's up to Charlie, with some help from Diesel, to paw through the town's grudges and find the killer before an impatient deputy throws the book at the wrong person. But every last one of Charlie's friends and co-workers had a score to settle with the nasty novelist. As if the murder wasn't already purr-plexing enough..

The New York Times bestselling Cat in the Stacks series continues as librarian Charlie Harris and his cat Diesel must clear a friend when the evidence is stacked against her…

Mississippi librarian Charlie Harris and his Maine Coon cat Diesel are on their guard. Oscar Reilly, the new director at the Athena College library, is on a mission to cut costs and has set his sights on the archive and rare book collection. Reilly's also out to replace Charlie's fiery friend Melba with someone younger, but his biggest offense is declaring all four-legged creatures banned from the stacks.

With enemies aplenty, the suspect list is long when Reilly's body is discovered in the library, but incriminating evidence throws suspicion on Melba. Charlie is convinced that his friend is no murderer, especially when he catches sight of a menacing stranger lurking around the library. Now he and Diesel will have to read between the lines, before Melba is shelved under "G" for guilty...