Summoning Of The Spirit............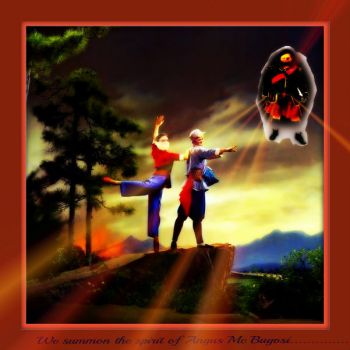 Why are you reporting this puzzle?
For a short time yesterday, as my unseen enemies were trying to silence the nuggets of wisdom which I choose to share with the followers of Bugosiland, I chose to escape with Mrs.Bugosi to the hills of Bonga-Bonga........
There, we limbered up with a few chinese exercise-thingys, before calling upon the spirit of one of the great Bugosi warriors of yore - the mighty Angus McBugosi, monarch of the glen......
After humbly paying my respects, I proceeded to inform him of my present predicament, in the hope that he would offer some useful advice..........Being a man of few words, he answered without pause for thought, and this is what he said:- "Piss off, big-ears!"......
I, of course, was mightily impressed that he had spoken to me at all, let alone in such a friendly
fashion, and after proferring my thanks, Mrs.Bugosi and I proceeded to take his advice, skipping
down the hill with a profound sense of pride at belonging to such a noble, friendly family......