Wedding #4..........Quite A Few Turned Up..........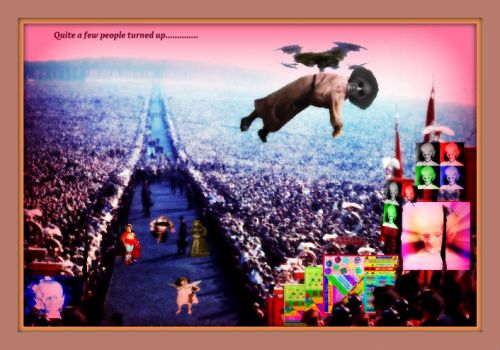 Why are you reporting this puzzle?
This was the scene yesterday in Bonga-Bonga, as enthralled crowds lined the small pathway leading
to the Bugosi Eternal Life Church (B.E.L.CH), setting for the wedding of Adonisette Bugosi and Norbert
Lefft........
There was a slight incident when a fat man with a bedraggled beard attempted to steal the limelight
by cycling into the church.......he was promptly ejected by our crack troops.....I mean, assistants.......
In the photo, we see the bearded intruder pedalling with all his might, in order to get past the ever-watchful eyes of Kaleidoboy and Desmondina.......who were looking the other way......
The faithful supporters of Bugosiland proundly display our weekend flag, our weekday flag, and images of their benevolent leader (who happens to be me), while our photographer has managed to capture sweetlittleoldgranny in mid-flight, (before she got drunk) as she surveys the glorious scene below........