Pussy Willow - 2007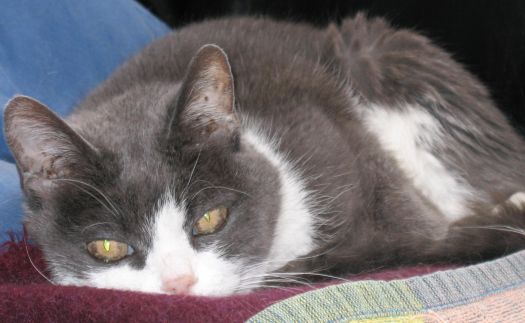 Why are you reporting this puzzle?
Pussy Willow, aka Willow, named herself. When I brought her home from the shelter, she started exploring. She discovered a vase full of pussy willows and immediately pulled them out of the vase and spread them around the room. The pussy willows matched her fur.

I think she was a little less than a year old then. She stayed rather small and very kittenish her whole life.

We had many good years together. This photo was taken about two years before she died of kidney failure in 2009 at the age of 21. She had patiently endured subcutaneous fluids for several years. My partner was out of the country, so I sent him a series of emails during Willow's last 24 hours. I just now reread those emails and now feel very sad, but am also smiling at many good memories of Willow and our other cats during Willow's lifetime. Will look for more photos from that period that might be good for puzzles.