Theme: Toys and Games: Dolls.
Theme: Toys and Games: Dolls.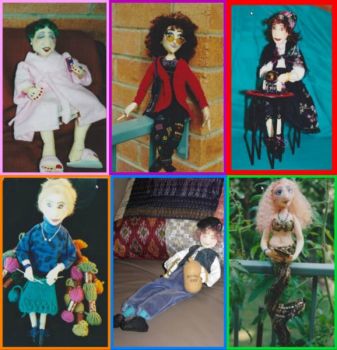 Why are you reporting this puzzle?
These are a few of the dolls I made years ago. They are made from offcuts, scraps and leftover quilting materials - and all are around 8-10 inches tall. I guess you could call them adult dolls!!!!

I gave them all names such as Doris the lazy beer drinker & smoker, Mary-Jane the hippy in her demin bib & brace overalls, Althea the crystal ball gazer, Knitting Nan and her yarn, sleeping Zed after a session on the Rough Red and Calypso the mermaid with her sequinned tail and pearl in her bellybutton!