👟,,,🐾🐍 Into the wilderness 🐍🐾,,,👟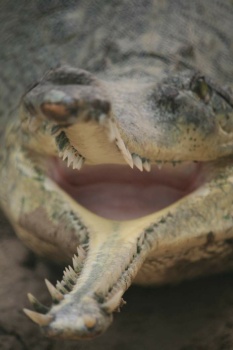 Why are you reporting this puzzle?
Chitwan National Park
is the oldest national park in Nepal and is listed as a UNESCO World Heritage Site. It is located in the central subtropical part of the country. It is home to rhinos, crocodiles, bears and especially the king of the jungle - the tiger. We will also meet monkeys, vultures, peacocks, snakes and many species of butterflies and insects.

- crocodile ... face to face

Looking into the crocodile's mouth doesn't look very safe. This photo, as the only one from the Park series, was not taken in the wild. If that were the case, I don't know what the outcome of the meeting would be.
In fact, this long-jawed Indian crocodile - Gavialis gangeticus - is a critically endangered species. It is an Indian sacred animal and its occurrence in the wild is very rare. There is a specialized center for breeding these rare animals in Chitwan National Park. Crocodiles spend another 6 to 7 years there after hatching from an egg. Then they are released into the wild. They live in the river in the Park together with classic freshwater crocodiles.