Vintage Coyotes Guarding My Front Door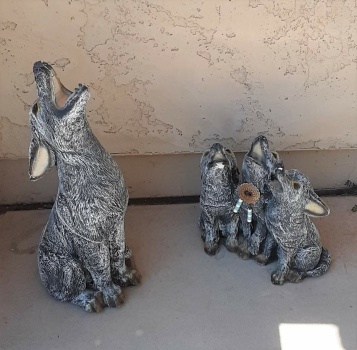 Why are you reporting this puzzle?
When I first moved out here, these appeared in every garden store. Now it is almost impossible to find them. They are fragile, made of resin, and these have been glued together multiple times. These sat on the doorstep of my grandson's maternal great-grandmother, who passed away at the age of 91. I am the paternal grandma. When grandson and I helped his other grandmother get her mom's home ready for sale, she gave these to us. (Grandson lives with me.) Our little terrier gives these a wide berth.
Want to solve without time tracking?

See how to change your settings to our de-stressing mode - we call 'Zen Mode' ♥ (You can always switch back).