2002 Bradford, PA, USA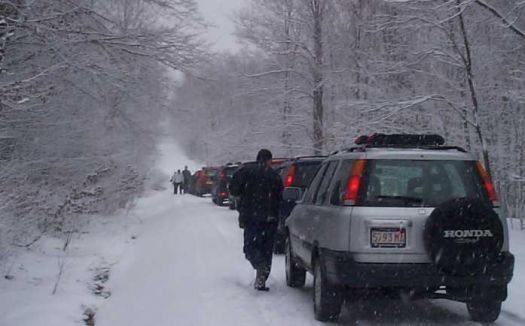 Why are you reporting this puzzle?
So I've been driving a Honda CR-V since 1999. My first CR-V was a 1999 5 speed manual (it's the red one you can see towards the front of this line of CR-Vs).
I sold the 1999 CR-V to a friend in 2009 (he's still driving it), and I bought a used 2006 CR-V. Last fall I traded in the 2006 and bought a 2014 CR-V. I guess I kind of like CR-Vs, especially the stupid things you can get away with while driving them, like driving down a logging road through the forest in a snow storm with a few of your CR-V owning friends. Oh, no snow chains, just the Honda RT4WD system. And yes, we had shovels and tow straps just in case, and no, we didn't need them. :D
How do you follow a puzzle?

When you follow a puzzle, it means you receive notifications about new comments on the puzzle.