Siberian Tiger Hugging Tree
Siberian Tiger Hugging Tree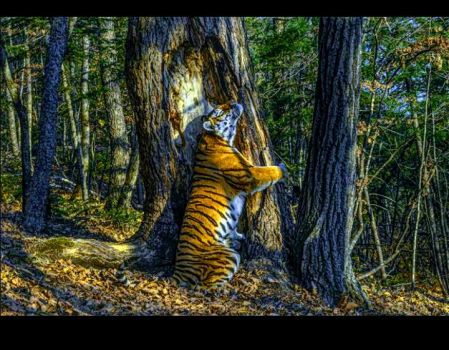 Why are you reporting this puzzle?
BBC News

Hidden Camera's Hugging Tiger Wins Wildlife Photo Award
by Jonathan Amos

"To photograph one of rarest creatures on Earth you have to be incredibly skilled and remarkably lucky.

But Sergey Gorshkov is clearly both - as demonstrated by his stunning picture of a Siberian, or Amur, tiger deep in the forests of Russia's Far East.

The image has just won him the title of Wildlife Photographer of the Year .

The female tiger is seen embracing a tree, rubbing herself against the bark to leave her scent and mark territory in Land of the Leopard National Park .

"The lighting, the colours, the texture - it's like an oil painting," says WPY chair of judges Roz Kidman-Cox.

"It's almost as if the tiger is part of the forest. Her tail blends with the roots of the tree. The two are one," she told BBC News."