The Faroe Islands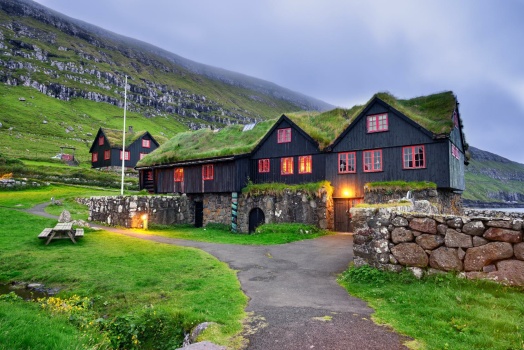 Why are you reporting this puzzle?
Today we travel to the breathtaking Faroe Islands, an autonomous territory of the Kingdom of Denmark.
The Faroe Islands are an island group consisting of 18 major islands and 779 islands, islets, and skerries. The islands cover about 1,399 square kilometres with a population of 53,358 (as of June 2021).
The Islands are built up of lava flows from volcanic eruptions in the Early Tertiary around 50-60 million years ago. They are located off the coast of Northern Europe, between the Norwegian Sea and the North Atlantic Ocean and have a subpolar oceanic climate. The closest neighbours are the Northern Isles and the Outer Hebrides of Scotland.
In Today's Puzzle, you see
Kirkjuboargardur
(Faroese for Yard of Kirkjubøur, also known as King's Farm) – a historic farm and museum in Kirkjubour on the Faroe Islands.
The farm was built in the 11th century and is one of the oldest still inhabited wooden houses – in the world! The farm was the episcopal residence and seminary of the Diocese of the Faroe Islands from about 1100. Today the 17th generation of the Parursson family, which has occupied it since 1550, lives on the farm.
You can
read much more about the Faroe Islands here
.