Absinthe #1 - All about Absinthe - first in a series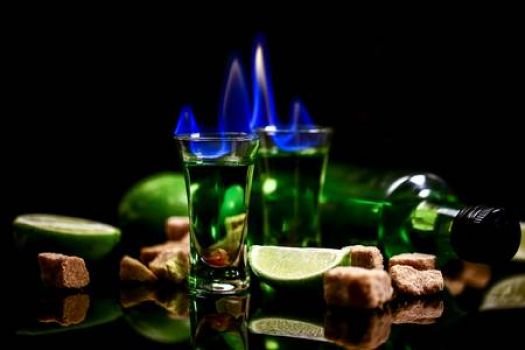 Why are you reporting this puzzle?
Absinthe is a strong anise-flavoured spirit made from various botanicals, including the flowers and leaves of Artemisia absinthium ("grand wormwood", which contains the psychoactive substance thujone), and green anise, sweet fennel, and other medicinal and culinary herbs. It is deep green with a very bitter taste.

It was very popular with late 19th- and early 20th-century intellectuals, poets, and artists such as Degas, Picasso, Oscar Wilde, Vincent Van Gogh, Hemingway and others, and is commonly referred to in historical literature as "la fée verte" (the green fairy).

Besides having a very high alcohol content (120 to 160 proof, or 60 to 80%), absinthe was said to induce a dreamlike state, enhance creativity and facilitate artistic expression. Absinthe produced in 19th century France contained 100-160mg of thujone.

Absinthe in some form or another has been used for centuries. Ancient texts mention an early sort of absinthe, wine-soaked wormwood as a vermipurge. In the middle ages, it took on many uses, including superstitious claims that absinthe could ward off plague.

Modern absinthes commercial origins date back to 1797 when Major Henri Dubied began marketing a bottled Absinthe in France which eventually came to be known as today's familiar Pernod recipe. Originally a medicine, Pernod began growing in popularity with the artists, writers, and intellectuals of the day, attributing some of their finest works to absinthe's creativity-enhancing effect.

However, by 1905 a strong anti-Absinthe (actually anti-bohemian) movement emerged, bolstered by propaganda disseminated by the temperance movement and smear campaigns making claims such as the following: "Absinthe makes you crazy and criminal, provokes epilepsy and tuberculosis, and has killed thousands of French people. It makes a ferocious beast of man, a martyr of woman, and a degenerate of the infant, it disorganises and ruins the family and menaces the future of the country."

(French winemakers also contributed to the abolition of absinthe. They had had a bad run of grapes for a couple of seasons and during the dry spell, people had acquired a taste for absinthe so that when wine supplies reached their usual levels it found fewer users. The wine lobby joined forces with temperance leagues and the battle was on.)

Convinced of the danger Absinthe provided, by 1908, Switzerland was the first to ban absinthe liquor, and by 1923, nearly every country worldwide had an absinthe ban in place.

That has changed somewhat; though Pernod continues to be sold without thujone in it, other manufacturers have begun to make 'real' absinthe, albeit with a very low thujone level. The closest thing you will find in North America is in Quebec, where provincial law allows only 15 mg thujone per kg.

There is a local distillery who manufactures absinthe - with a very modest thujone level of 10 mg/kg. As I've only had a small sample, I did not find myself flown to heights of creativity or depths of depravity.

It is traditionally served with sugar and water - lighting the drink afire in a shot glass is a recent, gimmicky invention that was not performed during absinthe's peak of popularity in the Belle Époque. But it makes for a pretty image.

I'll be doing a series on absinthe, not because I drink it but because I have nothing better to do.

And, no, the puzzle I posted yesterday with the vitriolic green distillation is NOT absinthe, and no associations between that puzzle and this product should be made! Those anti-bohemians would have jumped all over that.