Spring in the Alps, Giovanni Segantini, 1897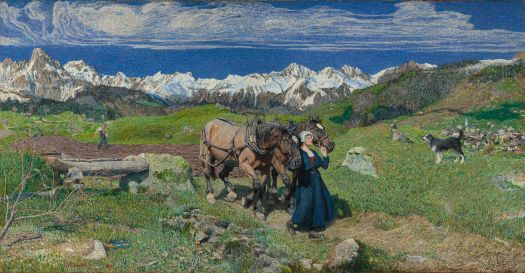 Why are you reporting this puzzle?
Spring in the Alps
Giovanni Segantini (Italian, 1858 - 1899)
Italian
Switzerland (Place Created)
1897
Oil on canvas
116 × 227 cm (45 11/16 × 89 3/8 in.)
The Getty Museum

From the Getty Museum website:
"Spring in the Alps depicts a panoramic alpine landscape near the village of Soglio—visible on the right with its recognizable church tower—in Val Bregaglia in southwestern Switzerland. The view sweeps across the expansive plateau and valley to the majestic, snow-capped Sciora Massif and Bondasca Glacier. In the middle of the composition a robust farm girl, dressed in the blue and red peasant costume characteristic of the Grisons (Graubünden) Canton, leads two large draught horses past a watering trough. They have left the freshly plowed field, visible in the left middle ground, where a sower scatters seeds; a vigilant black and white dog stands guard at the right. The joyful mood of the picture is expressed in the bright, shimmering sunlight and the glorious, expansive vista. The crisp colors of the season define the landscape against the brilliant ultramarine sky and the ribbons of thin clouds overhead. The painting is a vivid hymn to the reawakening of nature in spring after a long, hard winter, a pantheistic work in which the landscape, the rural workers, and the animals evoke the cycle of nature. Segantini counted Spring in the Alps among his greatest paintings, and it has become one of the most celebrated pictures of the Italian Ottocento*, much exhibited and published."

*According to Wikipedia, "Ottocento is Italian for 'eight hundred' and usually refers to the 19th century."
Are you looking for something particular?

Did you know you can select specific themes of jigsaw puzzles on Jigidi? We have 10 main categories with countless subcategories. Dig in to find your favourites ☺