Primitive Art A Young Girl With Her Doll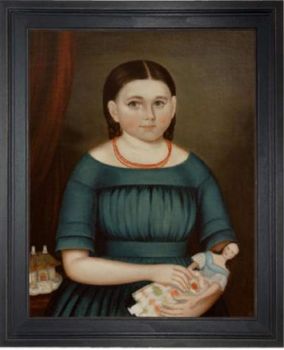 Why are you reporting this puzzle?
Because there were no art academies in early America, most painters were self-taught. There was no possibility of training in technique and anatomy in America. The early colonial style, based largely on prints of English portraits, tended to be flat, evenly lit, and rich in realistic detail. Naïve portraiture like Phillips's is characterized by unsophisticated draughtsmanship; awkward rendering of anatomy; flat, even lighting; a hard-edged plasticity; and emphasis on the luxury items of the sitter. Despite the overwhelming influence of European, mostly English, styles in art during the 1700s and early 1800s, the tradition of the itinerant, self-trained artist continued. These less-sophisticated artists provided a good source for patronage by less-affluent Americans who nonetheless wanted to demonstrate their refinement and good taste by commissioning art.