Wesley Bolin Memorial Park - Phoenix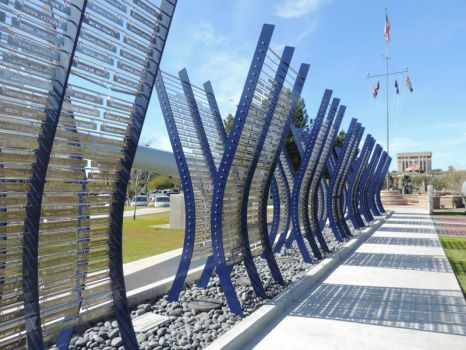 Why are you reporting this puzzle?
An urban park and gathering place with memorials, monuments and gardens. There are 30 memorials in total, honoring individuals, organizations and events. Highlights include the mast and anchor of the USS Arizona; memorials ranging from World War I to Desert Storm; the Arizona 9/11 Memorial; and memorials to Dr. Martin Luther King Jr. and the Navajo Code-talkers. This location is designated as one of the Phoenix Points of Pride. The plaza was established in honer of Governor Wesley Bolin.

The nine sets of blue steel pillars represent the nine minutes it took for the USS Arizona to sink on Dec 7, 1941 after being hit by bombs from the Japanese aircraft. She sank killing 1177 officers and crewmen.

Photo taken Feb 2016
Are you curious about how do we review content on Jigidi?

At Jigidi, we celebrate what connects us and steer clear of divisive content because how we meet each other matters. It forms us. When we review the content, we use four 'lenses' and look for what the image or comment is most.