Tommy Whiteshoes' Bed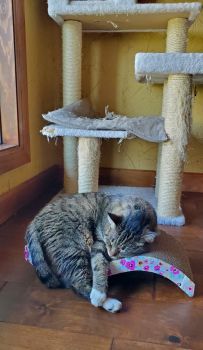 Why are you reporting this puzzle?
I have scratch pads all over the house. Only one of the four cats uses them. Tommy is not the one. The other three ignore them or sleep on them. What do they use to keep their claws in good shape? Tommy is a responsible boy and uses the scratching posts on the multiple cat towers. The other two cats use the rugs. Drat it!
What is the filter for?

Some puzzles are shown behind a filter. These puzzles are within our guidelines but still is material of which some will take great offence. Read more about the reasons and workings of the content filter and how you can set your account up to either see or not see puzzles that are shown behind a filter.