Bartolomé de Cárdenas, El Bermejo, 'Flagelación de Santa Engracia' (hacia 1474-1477) Detalle con el procónsul Daciano (primero a la izquierda)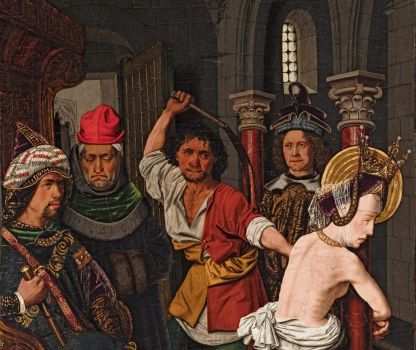 Why are you reporting this puzzle?
Hoy por hoy aún sabemos poco, demasiado poco, sobre Bartolomé de Cárdenas, también conocido como el Bermejo (h. 1440-1501). Bartolomé Bermejo es la personalidad artística hispana más poderosa de su época en los reinos peninsulares.
Si hubiera que escoger un conjunto donde la fantasía cromática y el sentido táctil se conjugan de manera perfecta con la suntuosidad de las indumentarias, este sería el retablo de Santa Engracia (hacia 1472-77). Aquí la mayoría de las sofisticadas vestimentas, complementos y objetos se inspiran, a veces de manera fiel, a veces libremente, en producciones características de la refinada cultura material nazarí. De ahí procede la túnica que porta el despiadado Daciano, con sus afiligranadas decoraciones pseudocúficas, pero sobre todo el turbante a base de textiles con bandas y flecos, las correas y las botas de piel. De origen andalusí son también, entre otros elementos, los arreos de montar –con borlas y placas de enjaezamiento– y la espada jineta de uno de los verdugos en el Arresto de santa Engracia. Gracias a una efectista utilización de la técnica del óleo, el drama del martirio de la santa se transforma en un fastuoso y brillante espectáculo visual. Un lujo pagano con el que también se pretende subrayar el carácter negativo, casi diabólico, del gobernador romano y sus acólitos.

Joan Molina Figueras

https://elpais.com/cultura/2018/10/02/actualidad/1538490094_831841.html
How does the notifications system work?

When you hold an account on Jigidi, you will receive notifications when someone tags you, upon a new comment on a puzzle you follow and upon new puzzles from a puzzle creator you follow.